Dead Possum Removal Adelaide – Hire Professionals to Do It Properly
Possums are unpleasant, damaging creatures that are difficult to get rid of. Additionally, they seriously damage residential areas. Also, they leave large, difficult-to-clean yellow spots on walls, ceilings, and other surfaces. Professional possum removal can be difficult, but dead possum removal is much more time-consuming. Possums generally hide out in areas of your house that are hard for people to observe or get to. They can slink away in these cracks. But they also pass away in these cracks, and dead possums are quite difficult to get rid of. Additionally, they produce an offensive odour that others find intolerable.
Possums cannot be legally killed because they are classified animals, even though they are becoming a nuisance on your property. But they regularly pass away from their sports, needing prompt removal. They can be discovered in the wall's interior or on the building's roof. It becomes impossible to find the possum's dead body in such circumstances, let alone dispose of it.
There are several potential causes for a dead possum, and its health could be anything. From a half-decomposed carcass to a whole body covered in insects and other pests, sometimes heavy, allowing many other bugs and bacteria to swarm over it. We safely remove dead possums while taking into account all factors, including your health and hygiene. You can quickly contact our knowledgeable staff. Call our Dead Possum Removal crew in Adelaide for help with the entirely safe process of dead possum removal.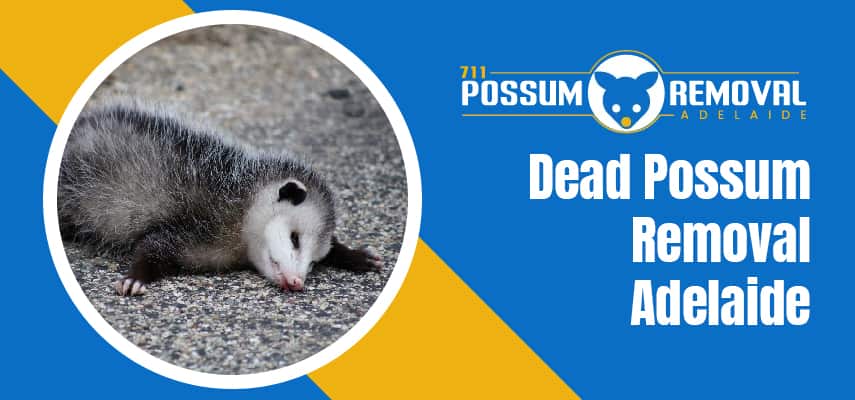 Our Technique for Fast and Effortlessly Removing the Dead Possum
Our company has a dead possum removal specialist who removes them effectively from a variety of locations. We provide our dead possum removal service within the same booking day thanks to our team of trained and skilled specialists. You will receive the greatest service at a reasonable cost. We serve both commercial and residential locations. It is important to properly dispose of carcasses without infecting the area and to clean the environment. The experienced team at 711 Possum Removal Adelaide is committed to moving quickly concerning body disposal in two ways:
Our professional staff must carefully pick up the deceased animal and bury it in the right location if the owner has seen it before. Our package also includes cleansing and deodorising the surroundings.
Doubting the dead based just on smell, without actually seeing them, is the second. Our knowledgeable individual will search the entire premises for the deceased possums. Since you cannot know how many dead animals are on the land, a thorough inspection is necessary. Then, if necessary, we will provide you with advice on the proper precautions you can take to prevent further possum disasters.
Our Dead Possum Removal Costs That We Share With Pride
These creatures, often known as possums, range in size from small to medium, with the average size being similar to a large house cat. Possums are categorised as meat eaters, which means they are content to consume almost anything. Due to their nocturnal habits and prowess as climbers, possums frequently make a noise in the attic at night. Possums can be a hassle to live with and are a pretty typical nuisance for both homeowners and businesses. Therefore, only professionals should handle the trapping of possums.
The cost varies depending on the customer, the quantity of dead possums, whether carcasses are obvious or buried, how long it takes to sterilise the area and other locational issues. 711 Possum Removal Adelaide is renowned for providing the greatest deals. After a comprehensive free assessment of the location by our professionals, you will receive your final bid. Your satisfaction with our service and cost correlation is assured.
Why Choose Us To Remove Dead Possums?
We offer prompt and effective service.
Our team offers same-day and emergency services.
We take precautions for your kids and pets while removing the possum.
We have done possum removal for decades.
For dead possum management, our experts employ modern, advanced equipment.
We promise complete customer loyalty.
Our professionals are fully authorised and licensed by the authorities to control live possums and remove dead possums.
In Adelaide, we protect both urban and rural areas from possums.
FAQs
Can I get rid of the dead possums on my own?
It is challenging to remove the deceased possums by yourself since you might not take the necessary safety precautions. For safety reasons, it is preferable to use professionals for this job.
How much time does it take to get rid of dead possums?
The full procedure takes between two and three hours to complete by professionals.
How much professional services are going to cost?
We charge reasonable prices for our deceased possum removal services. So, you don't need to worry about the cost. Your top focus should be your safety. The average prices paid by our customers range from $150 to $500. 
How well-trained are your employees?
Yes, all of our employees are skilled, licensed, and have plenty of expertise. They will serve you effectively and are nice. We prioritise client pleasure and watch over the efficient delivery of services.