Professional Backyard Possum Removal Experts In Adelaide
Exceeding your expectations, 711 Possum Removal Adelaide experts offer Backyard Possum Removal services in addition to your home. As a dedicated team that prioritises client satisfaction and health, we offer the best and most effective service to protect you from life-threatening possums. Moreover, all the strategies we customise are licensed.
Following all the strict standards of Adelaide conduct, before anything, we carefully start inspecting the infested area. With the cutting-edge technology we have on our side, our backyard possum removal Adelaide team assures desirable results. So, as a client of our company, you can be confident to avail high quality possum removal solutions to your problems. Thus, connect with us by calling 08 6490 9791 and possum-proof your property.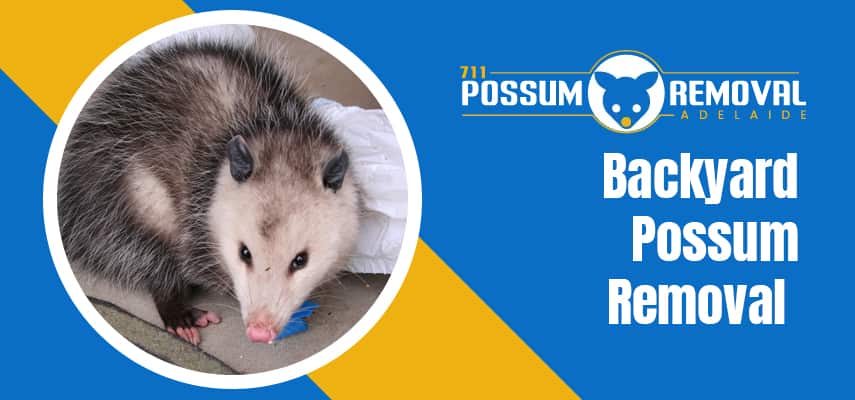 What Can Be Done To Get Rid Of Possums From Backyards?
There are many cruelty-free ways that help you get rid of possums from your backyard with very fewer effort. Those ways are to fence your place, remove food and water access, trim the branches and trees, etc. However, there is no assurance that these measures work all the time and that's when professionals come into the picture. Because our backyard possum removal Adelaide experts have different ways like installing possum boxes and using ultrasonic possum repellants.
A skilled and professional removalist like ours does manual removal because we have skills, training, experience and ventures. With us around, your backyard possum removal will be handled safely and in a timely manner. Moreover, we also make sure that once we trap possums from your backyard, we safely leave them in a terrestrial area. In fact, we find this area for possums that is just 50m from your property. So, hire us today!
Why Hire 711 Possum Removal Adelaide?
You can trust us for fast and effective backyard possum removal Adelaide services. In fact, we also provide pre-purchase inspection and possum removal services for your property. And a few more of the reasons that show you can benefit by choosing our company are below:
Service Is Affordable: We save our clients from possum problems by providing our services at affordable prices. In fact, this is one of the reasons why it became an effective backyard possum removal service provider in Adelaide.
Same-Day & Emergency Services: To not let the possums in your backyard enter other areas of your property, we offer same-day and emergency services. So, you can save yourself from additional financial damages happening to your property.
Local Professionals: Our backyard possum removal Adelaide team is government-recognised and has local professionals. Moreover, our experts are licensed as well as certified to carry out the necessary possum removal tasks.
Specialisation In Commercial Services: We also specialise in offering commercial services at places like eateries, factories, etc. Also, we make sure to catch all the possums from every hidden corner in a commercial property's backyard.
Use Of Eco-Friendly Solutions: In order to take extreme care of your kids and pets, we use eco-friendly solutions and modern tools. In fact, even during the possum removal treatment, you can stay on-site as these solutions are harmless.
Areas We Serve In Adelaide With Backyard Possum Removal Services
Backyards are one of the favourite places for possums to build their habitats and live there. Thus, you keep finding possums creating chaos in the backyard of your Adelaide property. However, you can contact our reliable backyard possum removal Adelaide team to remove them in the shortest time possible. In fact, possums love human homes the most and hence they keep attacking residential premises. Therefore, contact our team and keep these possums that enter your backyard 50m away from your place.